Popular Golfing Gadgets For The Modern Golfer
8 Jul 2019, 4:46 PM
Popular golfing gadgets
for the modern golfer
Bushnell Laser
Rangefinders
Any modern golfer just loves getting their hands on the latest cool gadgets to try out. These are great for not only helping improve aspects of your game but also providing funky pieces of new gear to have fun with. One of the best golf gadgets to try out are laser rangefinders. These pieces of kit will accurately calculate any yardages when playing, whether it is the distance to the flag or the fairway. This naturally can help you select the right club to use for each shot and take any guesswork out of it.
‍
One of the biggest names for rangefinders is Bushnell. There is the Tour V4, Tour V4 Shift and Pro XE to choose from in terms of buying a Bushnell golf rangefinder. If you need more information on each before you buy, the below should help.


Bushnell Tour V4
This is a compact type of rangefinder which makes it easy to handle on course and transport around. There is also innovative JOLT technology contained which sees the rangefinder vibrate to let you know when it has locked onto the pin. A battery meter keeps you fully updated on how much charge is left so you never run out mid-round and there is an improved focus dial so you can see with pinpoint accuracy. The range covers up to 1000 yards and any results given are accurate to within 1 yard. This means you can hit better shots with more precision, based on the yardages presented.

Fully rainproof and coming with a 2-year warranty for peace of mind, the Bushnell Tour V4 is a great addition to any bag.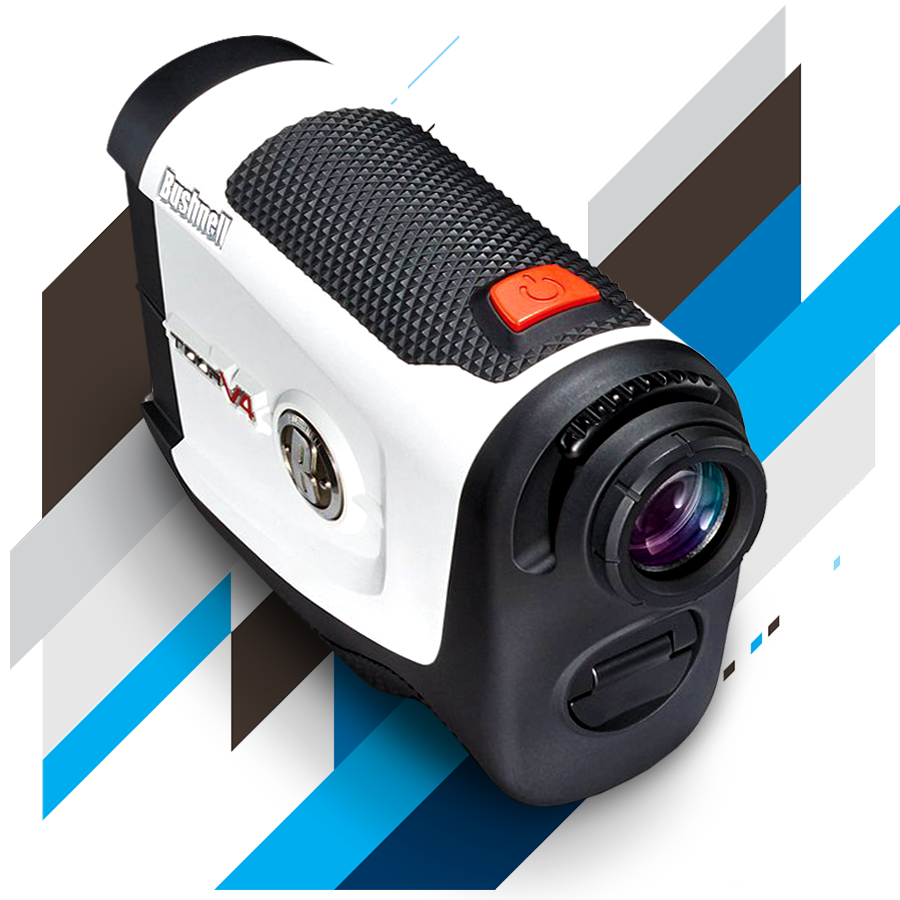 Bushnell Tour V4 Shift
The first thing you will notice about the Shift is its cool design. The white and red colour scheme makes it look very swish and will be the envy of anyone you play a round with. This model has a fantastic Slope mode to use which will help greatly when tackling any shots with uphill gradients. When this is engaged, the laser rangefinder works out not only the yardage for the shot but also the playing yardage when the slope is taken into account.

The 5 times magnification of the Fast Focus system makes seeing shots easier and you can also work out hazard yardages too. Coming with a carry case and clip, the Tour V4 Shift is easy to carry around with you on a round.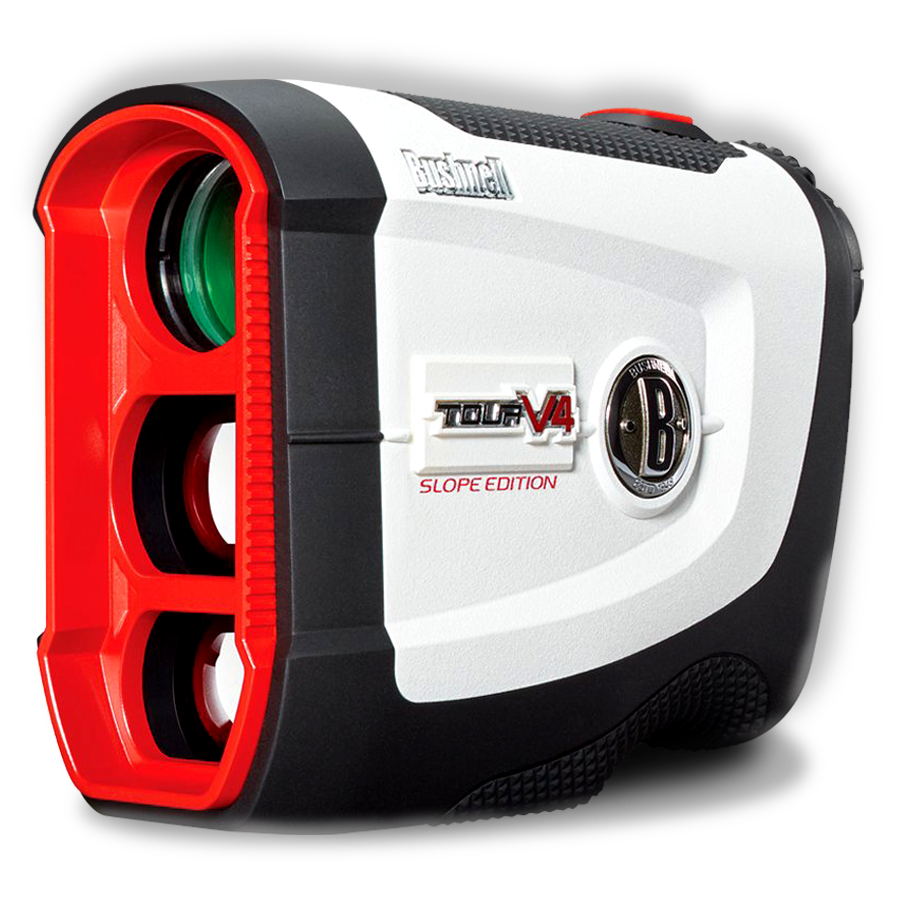 Bushnell Tour Pro XE
If you want to really step it up a level, then try the Bushnell Tour Pro XE. Billed as the most powerful laser rangefinder to buy, it is full of cutting-edge technology. This also has a Slope adjustment feature which also takes altitude and temperature into account. A strong, tough magnet makes it simple to attach to your buggy and makes taking it around with you no hassle. An enhanced backlit display makes reading the yardages given straightforward, even in poor light conditions.

This model can calculate yardages up to 1300 yards away with a 500-yard range to pin. Fully waterproof and with an armoured rubber casing, it is tough enough to last for a long time to give superior results.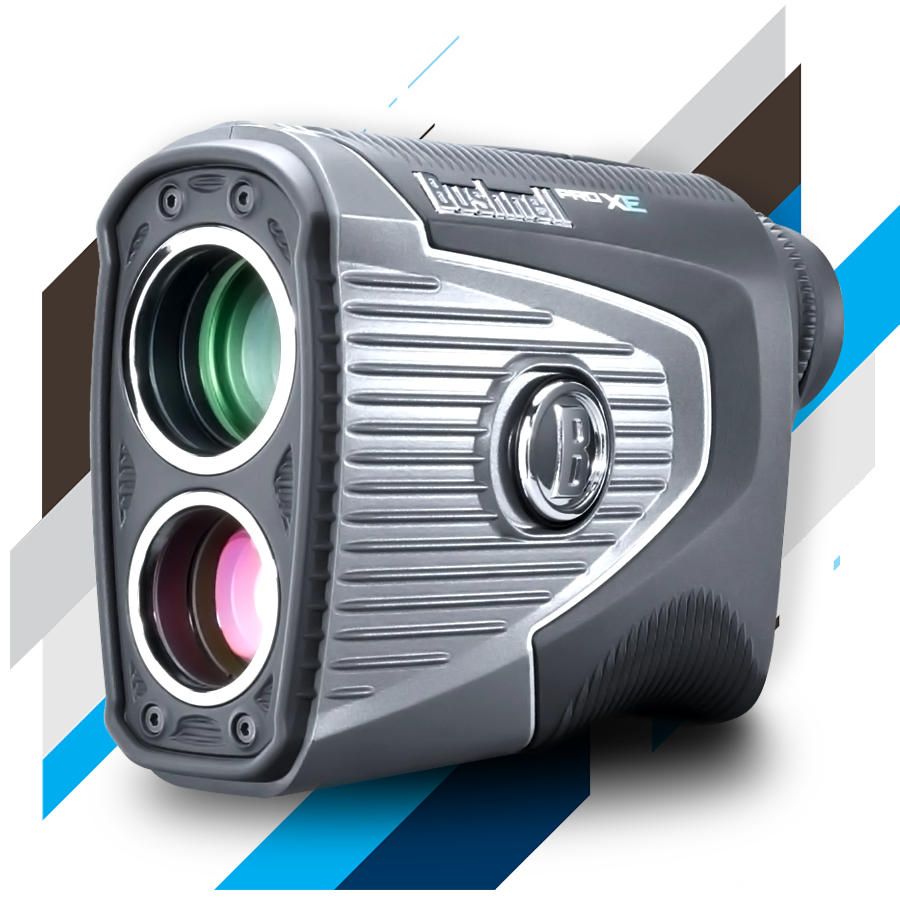 Get the best Bushnell laser rangefinders today
If you want to take the guesswork out of how far away the pin or a certain hazard is, then a laser rangefinder is the perfect gadget. The Bushnell range are ideal if you want well-designed, reliable rangefinders that quickly calculate yardages for you. Browse our online selection today to find the best Bushnell rangefinder for you.